Prevent summer Slide with your local library
Your Twin Cities Metro Public Libraries are here to support kids throughout the summer — and all year round — with learning, reading, and having fun! Check out your library's summer program details by stopping at a branch near you or by visiting your library's website. Also, be sure to check out the Summer With Your Library Performer Series, available virtually.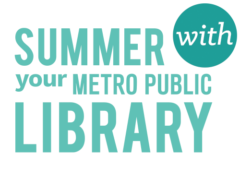 2021 Virtual Performer Series
Thanks for joining us in 2021! We'll see you back here in 2022!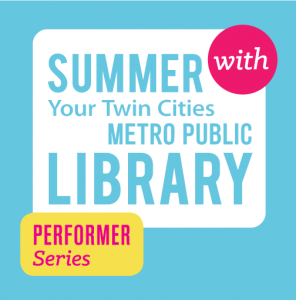 Lineup
Enjoy these virtual performances on demand throughout the summer from your metro public library.
Haitian Dance with Afoutayi, featuring COMPAS Teaching Artist Djenane Saint Juste
Learn to dance the story of THE MERMAID AND THE WHALE.
Story Craft with Baba the Storyteller, featuring Baba the Storyteller
An immersive story experience blending music with story.
Brodini Comedy Magic Show, featuring Master Magician Brodini
20 minutes brimming with amazing magic!
Storytelling Time, featuring COMPAS Teaching Artist Danielle Daniel
Stories woven full of fun, adventure and imagination for audiences of all ages.
The Jolly Pops Summer 2021 "Pop-Up" Book, featuring The Jolly Pops
A music video "pop up" book takes you on a ride unlike anything you've ever seen.
Butterfly Life Cycle Dance, featuring COMPAS Teaching Artist Karla Nweje
Learn the butterfly life-cycle through creative movement and dance.
Lalo's Lunchbox Interactive Livestream & On Demand, featuring Lalo, Daisy and Friends
Check library show times to help Lalo and his friends manage food erupting out of Lalo's Lunchbox. The interactive livestream shows will be available later to watch on demand.
Ralph's World Twin Cities TV Treehouse Episode, featuring Ralph Covert
It doesn't get much better than songs selected just for us by Ralph himself.
The Rosie Posies, featuring The Rosie Posies
A sing-along, move-along music show that will entertain all with original songs and favorite tunes.
The Virtual Performer Series is funded by Minnesota's Arts & Cultural Heritage Fund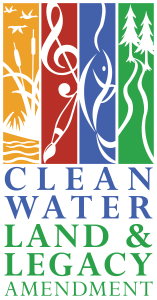 Summer At Your Library is Sponsored by: